How to use the method and support from Lila Consult to bring transparency to your processes:
Continuous Improvement Processes
The operational logistics processes in your company are only as good as the level of detail and standardization with which they were designed. With methods like Lean Management or Six Sigma, we can achieve a lot here.
It's critical for a continuous improvement process to be flexible to change and show transparent results (e.g. constructive feedback). Thus, permanent errors can be avoided, especially in labor-intensive processes.
Process and Change Management
We lay the foundation for modern, effective process management via Process Mapping (i.e. by recording your processes in a standardized manner). A distinction is made between value-adding, non-value-adding, and wasteful processes.
This is accompanied by the creation of a comprehensive KPI system. Together with you, we identify what the quality of the process measures. You can only continually improve what is measured.
Aftwerwards, in the Business Process Reengineering stage, we combine the results from the Process Mapping with the KPI system and feed in current information from operative processing. This creates transparency and you can easily mark where to begin optimization.
Comprehensive Cost Management
Considering the process gains logical significance via logical clustering in the framework of which we allocate processes or process costs to logistics areas or cost centers. This is particularly important for non-value-adding and wasteful processes.
Name one or more cost officers in their respective logistics areas. Their task is to keep an eye on the KPIs and to align processes in order to reduce operational handling costs.
Disposition and Controlling
Process and cost transparency now enable you to control HR deployment as needed. If employees are saved, you can use them in other areas or you can increase productivity while maintaining the current number of employees.
If a large part of the process costs is a result of operative processing, employee management is crucial in complex logistics processes with high levels of communication and coordination. Leadership quality shows who delegates tasks and responsibilities to individual employees - even if this is difficult for many executives in vertical management structures.
In addition to the delegation itself, the resulting increase in employee motivation contributes to long-term cost reduction. At the same time, the manager is free to make strategic decisions.

Developing standards
Standards are the operational scale for optimal operations. Without them, you wouldn't be able to manage your logistics processes. Regarding their development, we follow three principles. Standards contain clear timelines for operations (i.e. for each process, all sizes are defined according to the work area and activity). Standards are based on objective measurement methods such as REFA and MTM, which we at Müller - Die lila Logistik, can supplement with our own reference values from consulting and development projects. Standards take into account specific structural, infrastructural, and cultural conditions within the company.
Logistics Cockpit 4.0: A tool for management and controlling
Process and personnel management have a decisive influence on the logistics costs incurred during operational handling. Our business unit, Lila Consult, supports you with the control and management tool, "Logistics Cockpit 4.0", in the development and control of efficient systems. In doing so, we aim to provide lasting cost optimization, to carry out resource optimization during ongoing operations, and at the same time, to discover hidden reserves. In addition, high quality project sustainability results from partnership-based communication.
Whether you want to optimize your operational processes in-house or outsource them to one of our logistics centers, Lila Consult has a hands-on mentality thanks to many years of consulting experience and close cooperation with Lila Operating. We assist you with the implementation of modern management tools and help with future questions.
We proceed systematically: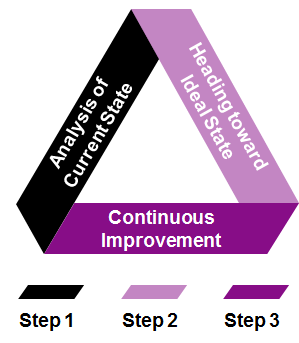 Analysis of the actual state
We analyze and record actual processes and actual quantities, determine the measured value and measuring points, and develop the project strategy on this basis.
Steering to the desired state
Due to the detailed preliminary work, target / actual deviations are immediately recognizable. We derive measures that bring about the process theory and, in our experience, the smoothing of these two states.
Continuous improvement
The goal is and will be the steady increase in productivity. Once process transparency has been achieved, the target state can be redefined again and again. This results in sustainable, quantitative and qualitative growth. Logistics Cockpit 4.0 thus becomes a permanent controlling and management tool.