Logistics in transition
Do you have a large number of suppliers, high frequency deliveries, and production facilities and sales branches around the world? Your logistics must be as thorough as the complexity of the situation. Globalization and the dynamization of the economy have fundamentally changed our understanding of logistics and the expectations placed on logistics service providers, even while the flow of materials and information are still important.
In the 1970s, manufacturers took care of their own logistics - they had warehouses and vehicle fleets. Today, they would be referred to as First Party Logistics Providers (1PL). In the 1980s, increasing market globalization resulted in an increased pressure for efficiency on Second Party Logistics Service Providers, or 2PL, (i.e. freight forwarders and transport companies). They were able to carry out transport services cheaper and more flexible than manufacturers and gradually took over warehousing and handling services. The Third Party Logistics Service Providers (3PLs), which have been operating since the 1990s, offer more complex logistics services than 2PL providers. In addition to transport and warehousing, they're responsible for other logistical tasks, as well as financial services and value-added services. The value-added services include low-value-added production processes, such as pre-assembly. The performance of the 3PL is called contract logistics. Manufacturers are decrease their own logistics infrastructure, logistical assets, such as real estate, and transport vehicles. Today, in a global and digital environment, Fourth Party Logistics Service Providers (4PL) are gaining importance. They take over the integrated control of cross-company supply chains and use innovative information technology to manage their complexity. They no longer need any assets to provide services; instead, they coordinate the use of other logistics service providers.


At Müller – Die lila Logistik, we offer our customers both 3PL and 4PL services.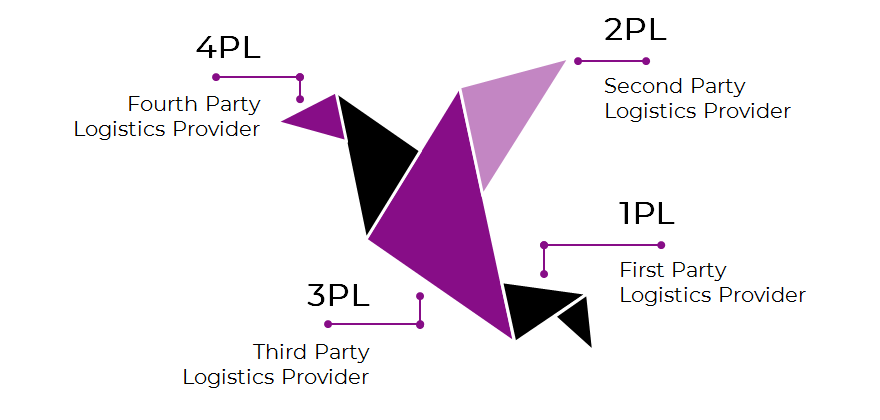 Fantasy vs. reality
When it comes to the integration of IT systems and the digital control of the supply chain, there are some high expectations. Our recommendation: Look forward to the future, but stay realistic. There is still a gap between desire and reality. As a logistics service provider with practical 4PL field experience, we know what is already economically feasible today and what is better realized in the future.
The goal of 4PL logistics is the integrated control and further development of cross-company supply chains. 4PL creates its IT structures and systems through its network of suppliers, warehouses, production sites, sales branches, etc. and continuously strives to improve processes, making them more efficient and sustainable. Whether inbound or outbound, 4PL can, for example, use network and load simulations to show how the cost structure can be optimized or whether the environmental impact of ideal utilization of the loading capacity of transport vehicles can be kept constant. After all, more and more companies are committed to keeping their environmental footprint as small as possible. The calculation of the optimum transport routes and modes of transport - road, rail, sea or air - is already feasible. A clever combination of multimodal transports or routes can reduce transport times and increase delivery reliability, particularly in international business. Monitoring tools also ensure transport reliability. For example, supply chain event management identifies bottlenecks in a timely manner, escalates responsibilities, and initiates alternative measures to maintain delivery reliability. Logistics service providers can use their databases to compare tariff structures or freight costs of suppliers and transport companies. This creates transparency in the audit.
The 4PL as a networking specialist
As a 4PL, it's our task to network your supply chain, taking all participants and influencing factors into account and to coordinate cooperation within the network.




A network is only as good as the information it's based on. Therefore, at the beginning of our work, we conduct a holistic, detailed network analysis, which takes into account customer, manufacturer, and supplier requirements and iterates in the interest of continuous improvement. The analysis considers network usage, requirements, replenishment strategies, strategic route planning, and network design.
The Lila Control Tower for global transport processes
The Lila Control Tower is a web-based, 4PL tool that keeps track of processes for you at all times. The Lila Control Tower offers centralized monitoring and dynamic control of high-frequency, global transport processes tailored to your production. The communication platform, in which all parties involved in the supply chain are connected, has access to warehouse and freight data, documents processes, derives measures, and communicates them to the respective actors for implementation.
The Lila Control Tower has a strategic, operational, and dynamic dimension to control transportation processes. The strategic specifications ideally flow into operational and dynamic logistics planning. Desired goals are compared with the actual situation so that possible changes in the supply chain are played through. Network simulations can be used, for example, to calculate where future locations should be located or how procurement can be optimized by purchasing competitive transport services, carrier organization, and route monitoring. The standards in operative logistics planning include, for example: uniform loading plans, transport bookings with efficient consolidation, strict exception and complaint management, supplemented by freight and returns management. Finally, dynamic logistics planning aims for a high level of standardization along the supply chain and the introduction of a network-wide KPI system.
The advantages of the Lila Control Tower stand out. Standards within all three dimensions make fast, flexible cooperation possible, even with new partners. Transports, including sea freight, containers, and courier express parcel service providers, can be centrally coordinated, enabling faster and easier goods receipt processes. In addition, transport statuses become more transparent. As a result, synergies in transport networks are leveraged. It also allows central time slot management.
The Lila Control Tower reduces error rates, speeds up decisions, and increases flexibility in your logistics network.