Although the development of ERP systems that transform heaps of data into actionable data is still currently in its infancy, forecasts assume that they will reduce the logistics costs of SMEs by around 10 percent in just a few years. Through supply chain management, which provides the optimal overview as the interface of all material and information flows and controlling the entire logistics chain via Fourth Party Logistics Service Providers, the accelerated flow of information will not only contribute to cost optimization, but also create transparency and comparability. Benchmark analyses would become real-time modules in day-to-day business, and modern, information-enabled knowledge management systems will increase efficiency across departments, locations, or companies, and reduce waste sites, such as construction sites.
Ultimately, the only question left is how quickly we are ready to accept this change and to contribute. We cannot prevent change, and we will have to learn that data is not lying, that markets and business models are accelerating rapidly, and that digitization is not simply updating the past, but brings something new along (e.g. machine learning and artificial intelligence).
Artificial intelligence and its quest for logistical perfection
The idea and research of artificial intelligence (AI) has been around since the mid-1950s. AI is an opportunity for humans but also threatens human labor. In many areas it can and will replace human interaction. Supply chain management could revolutionize it, as sales and revenue forecasting capabilities increase significantly. By intelligently matching an infinite amount of data, one day, perhaps, one can reliably predict whether and how many chocolate Santas will sell in stable weather conditions in South Africa. The reality is surprisingly close. With the right methodological competence, it is in fact possible to write algorithms that can predict tomorrow's trends, especially in the B2C segment and for low value-added logistics processes, such as in C-parts management. AI will make a lot easier, far more accurate, and more cost-efficient.
Initially, AI is expected to be used in logistical routine processes. AI strives for perfection and is faster and safer in its analyses and decisions compared to humans. These include, for example, the calculation of demand patterns, the determination of load times, and the selection of cost-efficient freight routes or haulage companies. In the long run, optimization and planning processes by AI will be fast, reliable, and real-time.
Research and business will drive development. It is already foreseeable that billions will be invested worldwide in the next few years. Whether or not and how quickly this will actually generate income will be shown by the pioneers.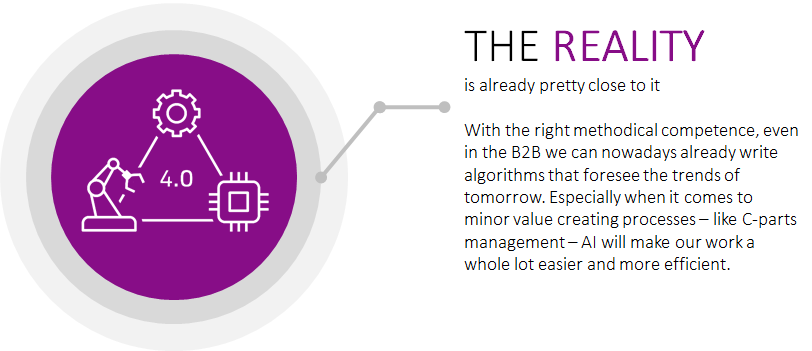 Industry 4.0 as an opportunity
In our book, "VORDENKEN", Ulrich Sendler highlights the topic in the chapter, "A possible export hit made in Germany - Industry 4.0 as an opportunity." You are welcome to download the file!