The digital transformation
The digital transformation does not stop at your business models. Rising and highly dynamic customer requirements are forcing companies to accelerate their business models, change value chains, and use innovative technologies to become profitable quicker than ever. However, the data exchange associated with the digital networking of companies and customers also opens up new business opportunities for you. That is, as long as the data is processed intelligently.
Does digital transformation affect every business model?
It looks like it. Your business operates in a digital environment that has an increasing impact on how an organization can compete in the marketplace. The degree of the necessary digital transformation can range from a minor adjustment of your existing business model to a fundamental change in which products, services, and revenue models need to be completely turned upside down and reinvented. How much transformation is appropriate depends on your customers' needs. In the end, it's about turning a satisfied customer into an enthusiastic customer. After all, satisfied customers decrease earnings, according to a series of studies. Turning customers into fans remains a fundamental goal formula for successful business models, even in the digital age. Only that now, with digitalization, it goes much faster.
Digital enablers, or the technologies that enable the transformation process, are: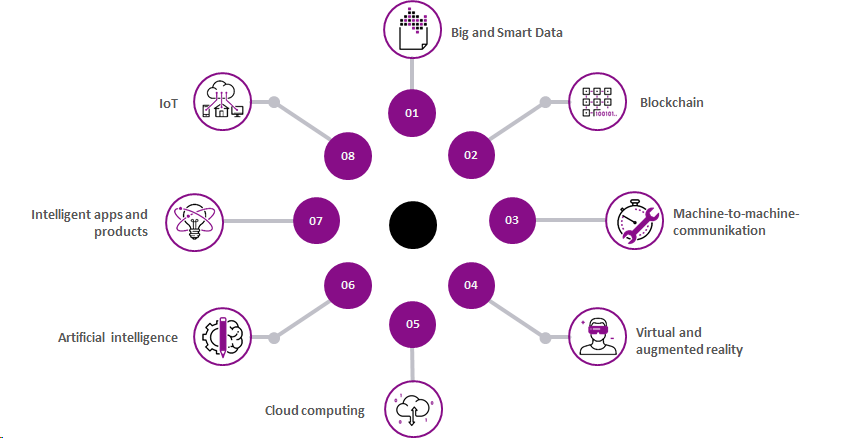 They have long been used in the corporate environment. They enable you to be close to the customer, to understand them better, and to give them a unique shopping experience anywhere and anytime.
What does a successful digital business model look like?
Digitalization has long influenced how a company generates profits. Already in 2001, Apple launched a portable media player: the iPod. The corresponding iTunes software made data exchange between an iPod and a computer and the shopping and downloading of content, especially music, in the Apple App Store possible. This combination of device, software, and online store turned the entire music industry upside down. Although Apple was not the first provider of portable players, the company gained market dominance while competitors such as Diamond Multimedia with its Rio abruptly lost market share.
The example shows the immense potential of a new business model. Apple gave customers a new buyer and user experience, built their position as a market innovator, and quickly made big profits. Most of its music-related revenue was generated by the sale of iPods while integration of its online music business provided protection against the competition.
Will everything be digital in the future or is it all about having the right mix?